Posted by Scott Roberts in Bloggers Bug Stream
As a few of you in the chilehead world already know, the Red Robin Gourmet Burger chain has introduced two new products this past week that contain the heat bhut jolokia AKA ghost chile peppers. This may be the first time a national, non-chicken wing chain use any type of ghost pepper sauce or condiment on one or more of their menu items.
Red Robin's "Red Royalty" promotional club members first got word of this in emails (as did I) which advertised not one, but two gourmet hamburgers. First is the more mild Cry Baby Style, with ghost pepper ketchup, pepper jack cheese and friend onion straws. Second is the slightly more blazing Fiery Ghost Style, with ghost pepper sauce, pepper jack cheese, plus both fried and fresh jalapeno slices. Both are double burgers.
Although the e-mail implied that a print-out of itself was possibly necessary to take advantage of either of the spicy burger offers, I later found out that the availability was for everybody would walked into a Red Robin. In a laminated insert inside the regular menu, there they were: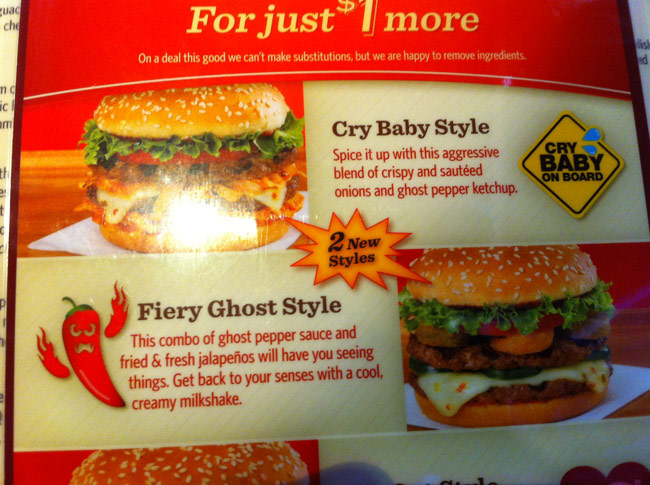 Although the wait staff gave me sufficient warning as to how blistering these menu items, I did not expect these to be too terribly hot. And upon biting into both, they were not at the upper end of the heat scale.
But there were some positives. Both were very tasty burgers, with juicy, succulent meat, and containing the right amount of melted pepper jack cheese. The fried onion straws added incredibly appealing texture and flavor to the Cry Baby Style. While I normally don't go ga-ga over ketchup on a hamburger, the ghost pepper ketchup add a nice zing and creaminess to the sandwich. I also dug the presence of the duel fried/fresh jalapeno coverage. While they did little to nothing to up the heat level, the peppers did offer a good crunchy texture.
Any negatives? Well, the ghost pepper sauce wasn't anything to write home about. (I got a side of both the ghost pepper sauce and ghost pepper ketchup for individual testing and dipping.) The sauce (not the ketchup) had a basic, bland and almost "dark" aspect to it. I wouldn't so far as to say it tasted "gritty" or "smoky", but I could tell that it had that dried, ground chile pepper feel to it. It had a bit of heat to it (probably at the lower end of a good habanero sauce), but the flavor of just the ghost pepper sauce alone I would rate 2.5 out of 5.
Another thumbs down were the french fries. Now I love me some nice, thick-cut steak fries, but Red Robin's fries have that nasty ability to lose all eatability when they drop in temperature from piping-hot to lukewarm. Still, they were partially redeemed when dipped into the ghost pepper ketchup.
Well, what's my final verdict? I wasn't expecting Red Robin to make these for the hardcore chileheads out there and instead cater to the masses who want a little bit of a burn when it's time to go out with the gang for a juicy burger. On that level, they have succeeded. I actually liked the lesser-heat flavor of the Cry Baby Burger because of the onion straws.
Ratings
Cry Baby Style – Overall Flavor –
Heat –
Fiery Ghost Pepper Style Overall Flavor –

Heat –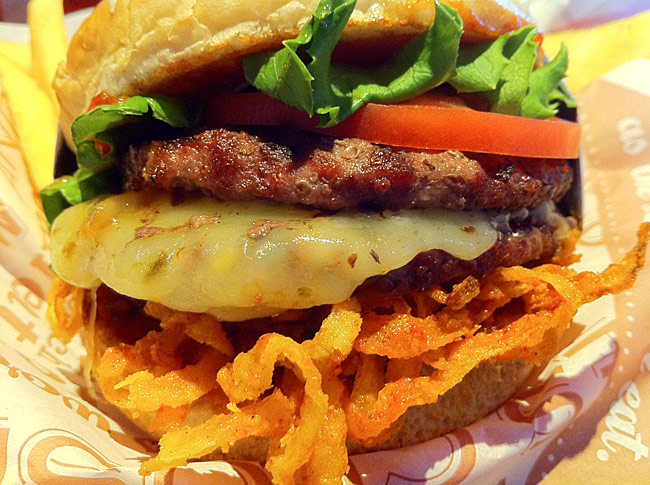 The Cry Baby Style, with ghost pepper ketchup, pepper jack cheese and friend onion straws.


The Fiery Ghost Style, with ghost pepper sauce, pepper jack cheese, plus both fried and fresh jalapeno slices.


A few bites into eating the Fiery Ghost Style Burger at Red Robin.


Inside Red Robin's Fiery Ghost Pepper Style Burger: ghost pepper sauce on tne top bun above the lettuce, fried & breaded jalapenos beneath the tomatoes, and fresh jalapenos.


I wanted more of the ghost pepper ketchup on the Cry Baby Style Burger!


Sides of Red Robin's ghost pepper sauce (left) and ghost pepper ketchup


The ghost pepper ketchup was great with fries! Not too hot, but it was still a worthy spicy condiment.
Read more of Scott's coverage of the fiery foods and BBQ world at his hot sauce blog, ScottRobertsWeb.com.