Posted by Scott Roberts in Bloggers Bug Stream
Do you envision a picture of a blogger as being someone who parks their generously-sized posterior in their basement for an hour a night, types up endless screeds about their hobby, hits the "publish" button in WordPress, and then calls it a day?
Au contraire! Anyone who's a part of this greater community will know that a lot can go on smack dab in the middle of the hot sauce and barbecue worlds. I've attended events, meetups, cook-offs and trade shows, both organized and took part in contests and giveaways, participated in dozens of podcasts, been on the radio numerous times, helped in fundraisers, been on the panel at tech/blogger conferences, judged cook-offs and various other food battles, written pieces and reviews for at least ten different websites, and along the way I've tasted a few thousand sauces, condiments and seasonings. I've even introduced my youngest son, Kevin, to the world of food blogging. It's been a fun ride full of great memories and I don't intend to get out of this nitro-fueled car any time soon.
So what do I consider to top moments thus far in my humble journey through the spicy food universe? It's tough to pick a simple ten. Some happenings mean a lot to me because of sentimental reasons and others stand out just from the sheer coolness factor.
Now, before I proceed any further, I have to state that meeting hundreds of product manufacturers, chileheads, fiery food industry folks, pepper growers, and competition BBQ teams has definitely been a highlight of the past three or so years. 99% of them have been abundantly friendly and giving and I've developed close friendships with many of them. How can I choose one person over the other, especially when many of them feel like extended family to me?
So grab a cold beverage, a plate of hot wings smothered with Defcon Defense Condition 2 or a bag of Red Hot Riplets Potato Chips, and sit down for a lengthy read. Without further ado, here we go…
10. Little Discoveries
Various

As I mentioned in the introduction above, I've tasted and sampled more products than I can recollect. As my fellow blogger brethren can attest to, one of the perks of being a food reviewer is that I get packages of free product in the mail all the time. I receive stuff so frequently that I cannot keep up with the shear volume of stuff to test out and write about. Food enhancers (my all-encompassing term that includes hot sauces, BBQ sauces, rubs and seasonings, and sauces and condiments of all kinds), cooking tools, snacks and ready-to-eat items come in so often that I've had to put up bookcases to contain them all. It's funny; people will inquire, "Scott, is that your hot sauce collection?" to which I reply, "no, those are the products I still gotta review!"
In the masses of bottles, shaker containers and jars I receive it's always a treat to open one up and be blindsided by an outstanding product. It can be a rich, hearty barbecue sauce sent in by Jake's BBQ; some so-good-you-can-eat-them-out-of-the-bottle, carrot-based condiments provided by Intensity Academy or Benito's Hot Sauces; or a sweet, burning sauce from Chef Doug Crane of Dragon's Blood Elixir that shocked me with it's fantastic flavor the first time I sampled it, which happened to be captured on video.
There can also be those instances where I taste a product in person. When I took a virgin bite on Deano's Jalapenos at the Fiery Foods Show, I knew that this was going to be a very special food item. Or the first time I ate some of Charles Vergos' Rendezvous Rub, I knew this was Memphis-style BBQ perfection.
It always amazes me the type of talent that goes into making hand-crafted sauces and specialty items. I've witnessed some things that make Heinz Ketchup and Hunts BBQ Sauce taste like Elmer's Glue in comparison. So it's my mini-mission in life to help expose some of these smaller companies to the masses so that fans of flavor won't have to settle for bland, mass-produced food enhancers all their lives.
9. First Foreign Language Interview
May 2010
My first media request outside of any English-speaking country was with Cristina Moreano, producer of Radio City, a radio station in Ecuador that is associated with the BBC of London and with the most important newspaper of the country, El Universo. Radio City has a flagship show that covers topics in music, pop culture, fashion as well as film and health. Ms. Moreno had told me that they were running a "Spicy Foods" week, and that they were looking for someone who could give the pulse of the fiery foods industry in the United States.
I had agreed to do a twelve-minute interview that would be aired several times during the specially-themed week. They had called me up at 6:30 one evening and gave me a few minutes of prep time and what general topics would be covered. When it was time to record, the two hosts of the show began their introduction in Spanish, and even in my limited knowledge of the language I caught words such as "Estados Unidos" (United States), "Chilehead" (I guess there's no foreign-language equivalent), "chiles" and "pimientos" (peppers) before starting presenting the questions to me.
The interview went very smoothly and was quite fun. One host would speak a question in Spanish, the other would interpret in English (in a near-perfect American accent, I might add), I gave my answers, which were turned back into Spanish for the South American listeners.
8. Getting Hypnotized To Feel No Heat
March 2010
Al "Buddah" Goldenberg has insisted that he's had a lot of experience with hypnosis, both studying it and trying it out on others. He was looking for a volunteer who could be influenced to remember a trigger word, and when hearing the trigger word or phrase when fully awake, could have the fiery sensation of capsaicin be turned off. Now personally I'm a skeptic and a myth buster in many ways, but I have seen legitimate displays of hypnosis and thought, "what the hell, I'll try out Buddah's little experiment".
During the 2010 Fiery Foods & BBQ Show weekend, Buddah had me lie down on my hotel bed as I was relaxed and had me go through the hypnosis process. I'm not going to repeat everything that was said, but Buddah essentially provided the trigger phrase of "heat off" that only he could say to take away the effects of a hot sauce burn. Both he and I were given "permission" to turn the heat back on at our discretion so that I could once again feel the heat of spicy foods if the hypnosis worked. The session was over after 20 or so minutes.
It was time to give this the old college try at the show. First, we stopped by CaJohn's booth for a trial test on Holy Jolokia. This was a sauce I was familiar with, and while it doesn't possess extract-level heat, it can still light a fire in your mouth. Buddah spoke to me the trigger words and I took a shot-sized swig of it. The vinegar and other flavors were more pronounced that I had remembered them, but alas the heat did creep in even if it did taste less potent.
Sensing I needed more hypnotic reinforcement, Buddah led me outside to the quieter patio area to put me under for about five minutes.
We went back in so that I could take a stab at the German Chili Police's Painmaker extract sauce. I was fed a small spoonful of the 500,000 SHU liquid and I immediately sensed a bitter, tea-like tone to it. While this happened, I expected a delayed heat to kick in but never did. Weird. I got watery eyes and a saliva build-up on my tongue, both reactions to super spicy foods, but I never felt the burn that caused them!
Me about to ingest some Defcon ZERO
Next was Defcon's ZERO, which raised the ante to 2 million Scoville Heat Units. Upon tasting it I wiped all sides of the straw on my tongue and waited. The taste was slightly better than Painmaker, but strangely no heat. I'm dead serious. In fact, the bodily reactions – increased saliva, teary eyes – were even milder than with the Painmaker. I think John "Creator" Dilley might have actually been a little surprised at this.
To conclude the experiment, we strolled over to CaJohn and I got a good dosage of Black Mamba (around 2 to 3 million SHU) on a little spoon. Once again I received the flavor of the sauce, including tartness of vinegar, but no burn. There was a sensation of what I can only describe as heat "trying to break through" yet never reaching a point where it was fully detectable. It's like being almost able to "smell" something sealed in Saran Wrap but never making direct contact with the odor. At this point I was able to detect some numbness on my tongue and some saliva, so I probably sounded like a sputtering idiot when I talked.
My verdict? There may be some truth to this stuff. I'm not going to fully jump on the hypnosis bandwagon until there are additional tests done. I would like myself (or someone else) to replicate these and other extract sauces or even eating raw chile peppers. How weird would it be for someone to chomp on a whole Trinidad Scorpion or Bhut Jolokia and not feel the burn?
Well, I may be getting ahead of myself. When reflecting back on this hypnosis episode, I couldn't help but think that maybe I told myself so much in my mind that this would work, and really WANTED it to work, that my own brain "turned" the burn off? Whatever the origin of the "switch off" was – being hypnotized or my own will power – it seemed that I was able to tap into something. But like I said, a helluva lot more testing has to be done, especially to other people and see if similar results can be obtained.
You can view the two ten-minute videos of the hypnosis session and the three extract tests mentioned above at ILoveItSpicy.com .
7. Taco Bell Test Kitchen Visit
May 2009
A few years back Taco Bell flew me and several other U.S. food writers and bloggers to cover the debut of the Mexican-style QSR's Volcano Burrito and their fiery Lava Sauce. For the two-day trip we bunked out in a hotel adjacent to the Taco Bell Headquarters in Irvine, California.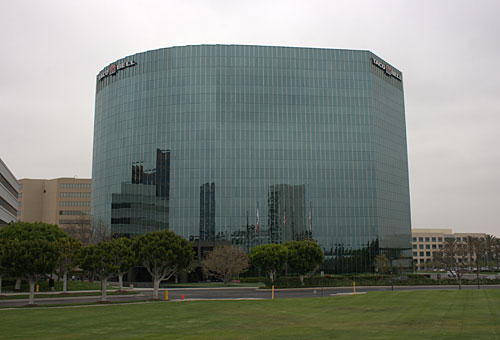 Taco Bell HQ in Irvine, CA, surrounded by the morning "May Haze"
On day one they treated us to a lavish dinner at Michael Kang's Five Feet Restaurant in Laguna Beach, where we feasted on wine, microbrewery beer, goat cheese wontons, boneless BBQ short ribs, catfish, shrimp, tuna, mashed potatoes, Creme Brule, cheesecake and more. Afterwards we all strolled down to the beach, went out for drinks and were driven back to the hotel to rest up.

Listening to the presentation on the Volcano menu
The following day the group was escorted across the street to the HQ building, where we were given a brief history of the restaurant chain in a mini-museum. We then trekked down to the Test Kitchen area where the Research and Development team proudly showed off their additions to the Volcano menu and gave us a complete rundown of what the Lava Sauce was (a spicy, cheesy spread that clocked in at 800 Scoville Heat Units). We were given sample of the Volcano lineup, we were given ample time to ask questions from the Taco Bell R&D team and the reps, and then were able to create our own custom menu item for lunch.

My custom Taco Bell creation – Scotty's Lava Potchos (Potato Nachos)
The only negative about the whole trip? I got the worst case of "airplane ear" I've ever had from the flight in and back.

Say cheese…as in, Lava cheese sauce!
6. Joining Podcasts
Various, 2009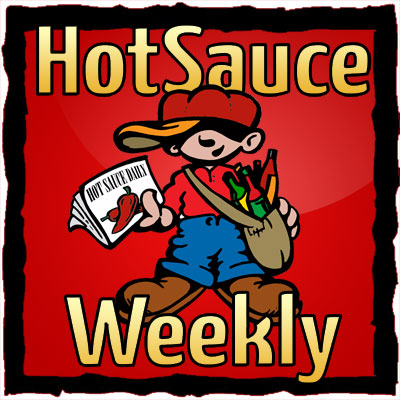 I've always been a devout lover of technology, and the concept of podcasting was something that enthralled me as soon as I discovered them. If you're one of the few bass-ackward citizens of this planet who doesn't know what a podcast is, it's simply a downloadable audio (and sometimes video) show. It can be recorded and produced by anyone, be about any topic under the sun, be in the format of a talk radio show, a music program or a segmented video series, and can be listened to or watched on any mp3 device or any computer.
I got hooked on these in 2005 when a handful of the first few podcasts were hitting their stride. They were mainly technology shows such as This Week in Tech and CNet's Buzz Out Loud. These became mainstays of my daily listening schedule while I toiled away on my 9-to-5 job as a website developer.
I became so enamored by podcasts that I had gotten bit by the bug and wanted to create one of my own. I was still into bootleg trading and torrent downloading at that time…well, somewhat. I had to be passionate about the subject matter for me to stick with it, but unfortunately I was slowly losing interest in obtaining every rare and bootleg Van Halen concert, so I never went as far as developing by own podcast show about that topic.
In 2008 and 2009, after I was in deep over spicy food, I had conceived of a regular, weekly podcast show about hot sauces. Since I didn't feel I had enough time to devote to producing such a thing, this never got off the ground.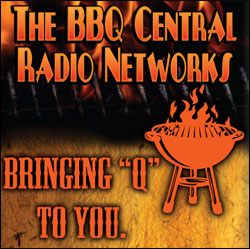 Enter Brian Meagher of Hot Sauce Daily months later. After confiding in each other that we both loved to listen to podcasts, Brian expressed his desire to create a program based on the spicy foods we loved. We had discussed format options, including me co-hosting the show with him, but I sadly informed him that my involvement would probably have to be limited due to the already gargantuan number of websites and projects I had my hand in at the time. I agreed to provide three-minute product reviews recorded at my convenience, along with me occasionally being on the show as a guest.
Brian ran with what he had, eventually got his wife Marilyn as a co-host, and has created a fantastic show of which I'm lucky to be a small part, called Hot Sauce Weekly.
Soon after I received exposure to Greg Rempe of The BBQ Central Radio Show due to Hot Sauce Weekly being a part of his network of programs. I had long been a fan of Greg's show and consider it to be the penultimate BBQ show in ANY format or media type, whether it be TV, radio, or internet. He offered me a regular guest spot reviewing barbecue sauces and rubs, and of course I jumped at this opportunity. I'm supremely honored to be included alongside of other BCRS guests such as Ted Reader and Derrick Riches, guys whom I've respected for years for their expert grilling and general barbecue knowledge.
5. Weekend of Fire
August 2010
Good Lord, out of all the trade shows, chilehead gatherings and meetups, how in the world could I pick just ONE as my favorite?!? Everyone who attends these things knows that it's the people who make it worthwhile, so I'm offering one up as the best representation of chileheads and bloggers – The 4th Annual Weekend of Fire, would was held in August 2010 at Jungle Jim's Oscar Event Center in Fairfield, Ohio.
Sure there were a lot of our heat freak friends sadly missing, but it was the best blogger turnout out of perhaps any event in fiery foods history. The cherry on the top was the Bloggers' Roundtable, organized and hosted by Brian and Marilyn Meagher for their Hot Sauce Weekly Podcast, in which representatives of the major chile blogs waxed poetic about tasting and reviewing hot sauces.
Yeah, there's the incendiary food and the fun contests, but make no mistake about it – again, it's the PEOPLE who make these shows.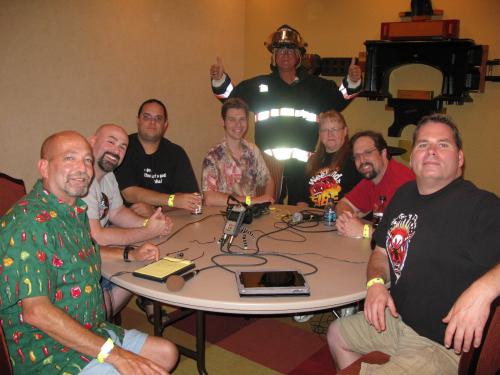 Bloggers sitting left to right; Brian Meagher, Scott Roberts, Al "Buddah" Goldenberg, Jonathan Passow, Marilyn Meagher, Joe Levinson, and "Firehead" Thomas Gately, with Jungle Jim standing in firefighter gear giving us the "thumbs up".
4. Blair Lazar Interview
October 2009
Why Blair Lazar? There have been numerous other sauce manufacturers and personalities which with I have become closer friends or who I consider to have overall better lineups of products. CaJohn Hard is one example, because not only do I feel that he does not carry a single weak product out of the 180+ he has created, but I can call him up any time as a friend and always count on him to be available to shoot the breeze.
I have included Blair for sentimental reasons. I've always been a chilehead bubbling underneath the surface of a bland cuisine dieter, because even as a teenager and twenty-something, I would eat a half a jar of picked jalapenos by themselves in one sitting, go searching St. Louis-area grocery stores for the hottest wing sauces, or test out spicy seasonings for grilled pork steaks.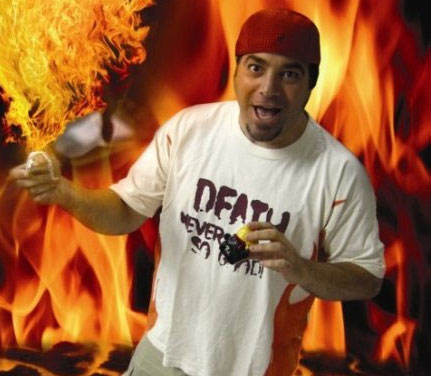 It was 2004, when myself and a handful of co-workers from Tacony Corporation in Fenton, Missouri went to a training conference at St. Louis Union Station. Union Station was the old time train station here in the Gateway City a hundred years ago, and about 25 years ago was renovated into a shopping and entertainment complex. There was a quaint little shop that sold fiery items that we visited called Pepper Pete's. The owner had given us samples of one of the scorching-est sauces he carried at the time – Blair's Mega Death. A small spoonful of the extract-laden elixir lit me up! I bought a bottle on the spot and from that point on I became head-over-heals in love with and hopelessly addicted to fiery foods, and also closely followed Mr. Lazar and his sauce exploits, some of which was chronicled on the then brand new Hot Sauce Blog.
Fast forward to the Fall of 2009, when I was to do a phone interview with Blair for both my site and for Peppers and More. It wasn't merely a one-sided interview, but a full-blown conversation between he and I for over two hours which I recorded with my iPhone, an eyepiece mic and my laptop PC running Audacity. Much of our talking was edited out for the final print interview, which included some controversial discussion of the overpriced and over-hyped nature of reserves and collectables. We covered ALL kinds of topics, and at no point was the phone call boring. Blair himself was absolutely nice and didn't back down from answering anything.
I no longer considered myself a Blair fanboy at that point, but it was a thrill finally conversing with the man I give credit for getting me hook, line and sinker into the hardcore chilehead world.
3. Helping Out Causes and Companies
Various
When Doug Spiros and I interviewed Nick Lindauer of the Hot Sauce Blog, we posed the question of what were the posts or threads he'd posted on his website of which he was most proud. His answer was immediately and unequivocally ones that aided charities and urged donations towards worthy causes, such as Jim Campbell's Step Up for Charity. It would be a grave injustice if I didn't list the same amongst my top 10 favorite moments, the most recent being the charity auctions to help Hudd.
I would also like to extend this to include helping out all the hard working, up-and-coming manufacturers. Most of these sauce makers are already heavily loaded down with "real life" committments such as full-time jobs, family and school, and they pour their blood, sweat and tears (figuratively, of course) into the products they create. To many, this side business is their passion and they use up every spare second of their free time to lovingly craft their food wares. It's an honor to be able to expose some of their products to the world.
2. Mike Greening Interview
March 2010
Another man I've respected for a long time was Mike Greening of Mike & Diane's Gourmet Kitchen, makers of the top-notch Ring of Fire and Mad Anthony's lineup of sauces. I had already interviewed Mike for my blog and had developed a casual friendship with him for several months when Buddah had secured a video interview for me with Mike during the Fiery Foods Show.
It was the first time I met Mike in person, and he lived up to everything I expected of him and more: he was a total class act, was completely unpretentious and down-to-earth, and despite his tight schedule happily agreed to talk with me.
We sat outside the Sandia Resort and Casino in the patio around one of the huge circular, padded seating areas that surrounded fire pits we dubbed the "Rings of Fire", all while a fountain sprayed a soothing mist in the air. If I were on any type of national network interviewing a celebrity, this would be the type of one-of-a-kind camera shot for which they would aim. It was the perfect, picturesque setting to talk to the maker of Ring of Fire Hot Sauces in the fresh, sunny, New Mexico morning air. I was secretly geeking out!
I peppered him with questions about how he got started, how he met Van Halen/Chickenfoot bassist Michael Anthony and I found out he was testing out dry seasonings. Buddah did the camera work and Joe Levinson of The Hot Zone Online sat in on the conversation.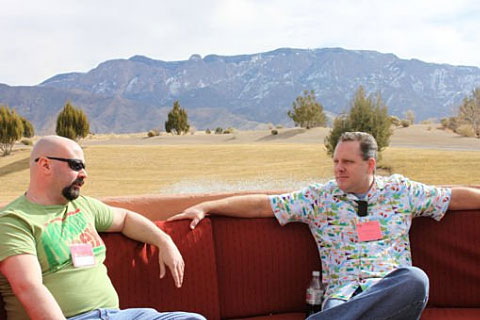 1. Friends Come to the Rescue
November/December 2010
The most memorable moment of the past three years is a no-brainer, as it was a DEEPLY personal one. It happened during the days and months following my divorce last Fall. A bunch of you have gone through similar circumstances, so you can identify. I had to face a near perfect storm of struggles: divorce, love and a roller-coaster of a ride of a relationship, heartbreak, desperation, confusion, the threat of a job lay-off, my ex-wife being in the mental hospital, and my sons coming to grips with their life turning upside-down. I never played victim then and I'm not about to play one now, but I was about as rock bottom as I could get.
My blogging activity slowed down drastically. At the time I just had the passion removed (as if all the wind was knocked out of me spiritually) to even write a simple hot sauce review. When giving updates on my status in life, sometimes I was semi-vague, other times I was pretty direct as to what was going on. I knew down in recesses of my heart that I would spring back, yet it seemed like the apex of the mountain was light years away. So I got back going to church and praying to God for help, and help was provided by the Lord in the form of friends and acquaintances.
I was inundated with phone calls, e-mails, Facebook wall postings and inbox messages, text messages and every other form of electronic and personal communication. Dozens of people contacted me sometimes with words of encouragement, sometimes with a joke or two to lift my spirits, sometimes to pray with me, and other times they were there to just let me vent to them. I'm choking up and tearing up again as I type this thinking about the generosity and love poured out by everyone.
When people speak of the fiery foods industry or the BBQ world as having the best folks in the world, they are not exaggerating the slightest bit. I can testify to that. You know, even if I never got to taste a single hot sauce I still would be totally content and ecstatic with getting involved with these people. These are more than just people, they're a family, and I'm blessed to be a small part of this family. Because of them I will never take friendship for granted ever again.
Read Scott's coverage of the fiery foods and BBQ world at ScottRobertsWeb.com.